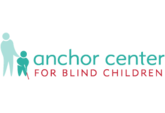 Anchor Center For Blind Children
Anchor Center for Blind Children provides early education and intervention services for children birth to five years old who are blind or visually impaired.
Our collaborative team approach to education, therapeutic and family support services ensures lifelong success. Everyone matters in the life of a child.